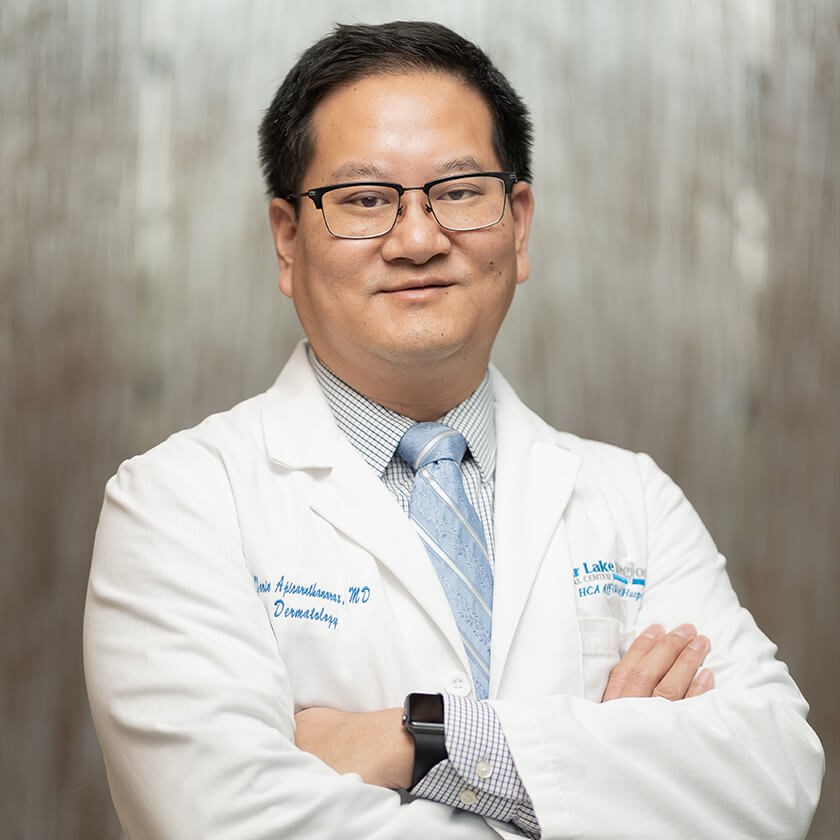 Narin Apisarnthanarax, M.D., F.A.A.D. is affectionately known as "Dr. Joe" to his patients. A native of the Clear Lake area of Houston, TX, he graduated from St. John High School before attending Washington University in St. Louis, MO. He graduated with a bachelor's degree in biology and then attended the University of Texas Medical Branch in Galveston, TX.
After finishing medical school, Dr. Joe completed a residency at Case Western Reserve University in Cleveland, OH, one of the leading research universities in the country. In addition, Dr. Joe conducted three years of skin cancer research at M.D. Anderson Cancer Center with the University of Texas. Currently, Dr. Joe teaches medical and physician assistant students and serves as a clinical assistant professor of dermatology at the University of Texas Medical Branch in Galveston.
Dr. Joe is a leader in dermatology and has published several articles in esteemed medical journals and medical textbooks. At Clear Lake Dermatology, he specializes in treating skin cancer and psoriasis. He's regarded as an expert on cutaneous lymphomas, which are cancers of white blood cells that affect the skin. Dr. Joe also has a keen eye for aesthetics and is an artistic master at cosmetic dermatology and laser procedures.
As a board-certified dermatologist, Dr. Joe is a proud member of several professional societies, including the American Society of Dermatologic Surgery, American Society for Laser Medicine and Surgery, and is a fellow with the American Academy of Dermatology. For nearly 10 years, he has worked in private practice and has hospital privileges at Clear Lake Regional Medical Center in Webster, TX.
Dr. Joe is proud to welcome new patients to Clear Lake Dermatology.
Reviews
"44 Years Old. Unhappy with Eyelids and Frown Lines - Houston, TX - So far I am very happy, anxious to see the outcome in 2 weeks! Very little pain at the injections, she took time to make sure the area was numb and I got the most for my money. Would recommend to all of my friends. Friendly staff. In time with my appointment. Addressed my concerns and helped me relax."
J.
RealSelf
"45 Yrs Old, 4 Kids and Needed Much Better Looking Skin - Webster, TX - It has been a great experience in this office and getting service... Love the fact they take their time during consultation and the process is very pleasant. i needed a smoother skin around my eyes and have tried Dysport & loved it. I will defintaely return and try additional services at this office."
B.
RealSelf
"Love my Restylane and Dysport Injections from Dr. Joe! - Houston, TX - Since the holiday season is approaching, I decided to try Restylane injections for the first time under my eyes to reduce the hollow and sunken look that was not so appealing. I wanted to look refreshed and maintain a youthful appearance. I was nervous at first to try something new, but regret not trying it sooner after seeing the amazing results. The injections were not painful and there was minimal recovery time. I do believe that having an experienced and methodical injector is key. Again, I am kicking myself for not getting filler under my eyes years ago!"
L.
RealSelf
"One Happy and Fully Refreshed Patient - Houston, TX - I have been going to Clear Lake Dermatology for several years now seeing Dr Joe for various issues and the occasional "liquid refresher." I have had nothing but exceptional results and positive experiences with this family run group. With regards to the cosmetic procedures, I have been thrilled with the results, everything looks very natural and I get tons of compliments! Are there less expensive options available, perhaps BUT, when you go to Clear Lake Dermatology the injections are only done by Dr Joe which to me is huge, I wouldn't want to save a few dollars at a medi-spa and risk my one and only face (or take a chance that I'm getting diluted product…yikes!) It's clear to me that the staff really gets bedside manners at Clear Lake Dermatology, often when I go my appointments will be very Jovial (the cosmetic procedures) but I've also seen Dr Joe and his staff exhibit extreme sensitivity and compassion when more serious concerns are raised. I overheard bits of a conversation in which a patient was being given bad news and do you know they were calling this patient not only to share the news but also to schedule surgery for the very next morning....what Drs office does that?! This is an office that genuinely cares about their patients! Dr Joe spends his time with Patients so sometimes you might encounter a wait but, you'll appreciate it when he spends the time with you. If you're on the fence about Clear Lake Dermatology or having a "lunch time lift" I wouldn't think twice."
H.
RealSelf
"Ultherapy - I am 50 and trying to slow down Father time. Want to stay as young looking as long as possible. Sculptura a couple of years ago and now trying ultherapy. Eager to see results in 3 months. Dr Joe gave me a nerve block and while having it is slightly uncomfortable to have the block, It is my understanding that it made the ultherapy much easier."
D.
RealSelf
Related Posts